Here is a great workout that only takes ten minutes that you can do every day. Cycle between the following exercises as quickly as possible to keep up your heart rate and minimize the time it takes to do the workout. You can do this any time, as long as you have a chair and an open floor space.
Here it is:
Start with the bigger muscles, to minimize their use when you are working out your smaller muscles.
30 Push-ups with side planks (push up, then move into a side plank, alternating sides
This kid has the right idea
40 Chair Curls (grip the back of the chair and curl normally) You can grip the chair in whatever way is most comfortable. There is no picture because it is fairly self explanatory.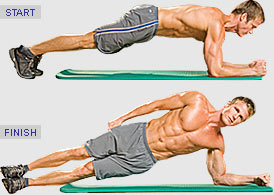 Finish this workout up with 3 minutes of plank and one minute of side planks
Tomorrow we will work more on your deltoids (shoulder muscles) and abdominal muscles as well as external obliques.