Here is one that is all for your legs since the last few have been nothing but upper body. As always, go fast to keep up your heart rate and minimize time and this should take you less than ten minutes.
Here we go.
50 Knee raises on each leg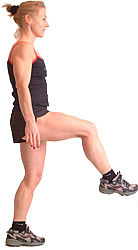 1 Minute balance on each leg (while moving arms for instability)
Thanks for taking your next step towards a great body and reading! See you soon.